Amendment to the Minimum Wage Act

We would like to draw your attention to a significant amendment to the Act of October 10, 2002, concerning the minimum wage, which was introduced under the Act of July 28, 2023, amending the Act on bridging pensions and certain other laws (Journal of Laws item 1667).
Under this act, starting from 2024, the additional pay for specific working conditions will not be taken into account when calculating the salary compared to the minimum wage.
The amendment to the minimum wage act expands the list of salary components that are not considered when calculating an employee's salary in comparison to the minimum wage.
This mentioned catalogue will be expanded to include the additional pay for specific working conditions. The amended law defines this as an additional payment for performing:
work in particularly strenuous or harmful for health conditions,
work involving significant physical or mental effort, or particularly hazardous work,
to which the employee stays entitled under the terms defined in separate regulations, collective agreements, agreements based on collective bargaining governed by law, remuneration regulations, statutes defining the rights and obligations of parties to the employment relationship, employment contracts, or cooperative employment contracts.
---

Source: The article was created in collaboration with our cooperation partner – sdzlegal Schindhelm Law Office
If you have any questions regarding this topic or if you are in need for any additional information – please do not hesitate to contact us:
CUSTOMER RELATIONSHIPS DEPARTMENT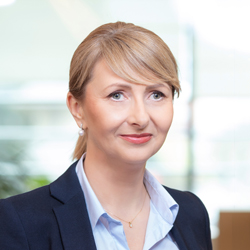 ELŻBIETA NARON
Head of Customer Relationships
Department / Senior Manager
getsix® Group



***
This publication is non-binding information and serves for general information purposes. The information provided does not constitute legal, tax or management advice and does not replace individual advice. Despite careful processing, all information in this publication is provided without any guarantee for the accuracy, up-to-date nature or completeness of the information. The information in this publication is not suitable as the sole basis for action and cannot replace actual advice in individual cases. The liability of the authors or getsix® are excluded. We kindly ask you to contact us directly for a binding consultation if required. The content of this publication iis the intellectual property of getsix® or its partner companies and is protected by copyright. Users of this information may download, print and copy the contents of the publication exclusively for their own purposes.