When you start working with us you receive as our customer access to the getsix® Customer Extranet. as part of your individual service package.
As part of our standard package, you have free access to our online communication system getsix® Customer Extranet, which enables direct online contact and document transfer between both of us. Find out how you and your employees can save time and make your daily work easier by using this tool.
---
What is getsix® Customer Extranet?
It is an integrated communication system for accessing and exchanging business information between you as our customers and us being your accounting office. Via the individual accounts set up for you, you have 24/7 access to your corporate data, financial reports and files having been updated by our employees.
The Customer Extranet guarantees a permanent exchange of information between getsix® and our customers and the security of your data storage. Thanks to our Extranet, the entire communication process between all of us becomes much more efficient and consistent.
The transfer of data between the system and its' users takes place via a secure HTTPS connection secured with an SSL certificate. This solution is also typical for e-banking worldwide. To make sure that your connection is secured by such a SSL certificate, please check if the address of your website contains "https". A padlock icon or a green address field can also give proof that your website is secured by a SSL certificate.
---
Advantages of communication via getsix® Extranet
Data security

- all data stored on our Extranet are protected against loss by processing daily backups of the content stored on it. Access to data is protected by an encrypted HTTPS connection and a minimum 8-character individual password for each user, in order to protect against access by unauthorized persons.

Constant access to shared documents (24/7)

- regardless of where you are and what device you have: computer, laptop, smartphone, you can view, download and transfer the documents and data made accessible to you.

Automatic e-mail notifications

- can be sent to you each time a new document or report is uploaded, please see for installation instructions the function "alert-me" on the last page of this guide. LINK

Create individual folders

- enables the exchange of your data with our employees, makes the forwarding of invoices electronically easy

Access via login and password only

- we create dedicated client accounts for you, and you decide who has on your side access to which company data.

Intuitively operated platform

- We strive to ensure that our interface is clear and service-friendly

Not only e-mail and telephone

- In order to make cooperation with our customer service, accountants and staff easier, we use MsTeams messenger. This application enables you to chat and exchange documents made available to you.
W In the getsix® Customer Extranet you will find all your financial reports and other statements in chronological order. In this way, you can see all your information in one place. Your data stored on our Extranet have multiple security features and is intended for your use only.
getsix® Customer Extranet works on tablets and smartphones via an app you can download to your device. You can use getsix® Extranet in the following applications: Microsoft SharePoint, Microsoft Teams.
---
After entering the address into your browser: getsix.eu/extranet, a login screen pops up as shown below. Here you have to enter your login and the password you created when you first logged in. If you have not yet been granted access, please send a request via the website: LINK

The encryption of your internet connection guarantees the security of the network. We take all actions that your data is adequately protected when using our websites.
Every connection to getsix® Customer Extranet is encrypted using HTTPS, secured with a SSL certificate. This solution prevents interception and change of data and ensures the authenticity of the source.
In order to test the functionality of our Customer Extranet, we offer you a trial access: getsix.eu/extranet
Login:
Username:

getsix-guest@contoso-europe.com

Password:

getsix2021!@
Using this access tree you will find sample reporting templates for the test company
firmy "Contoso Sp. z o.o.".
Once you have logged in with your user name and password, the "Welcome Screen" appears. At its' top you will find the main navigation menu, using it you can navigate through the individual libraries of the portal.
This menu includes tabs:
Root

- redirects you to the start page, where you will find additional information about the getsix® Group and our new services.

Customer Extranet

- the page from which you can select your business unit. This is especially important if we support more than one of your companies.

getsix News EN DE PL

- buttons redirect you to the news section of our website.
In the middle of the screen you find the name of your company with your customer number. If we support several of your companies simultaneously, you will see a separate section for each of them. For administrative reasons, the portal is designed in such a way that all information in the customer area is managed separately for each of your companies.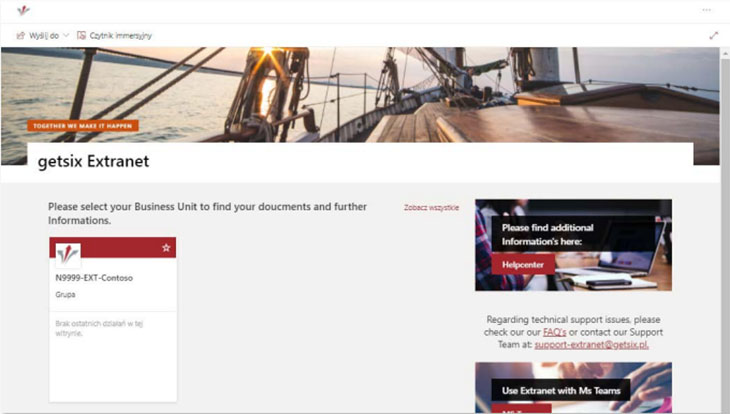 ---
HELPDESK
If you have any questions...
We have created a HelpDesk for you, which you can access from anywhere on the Customer Extranet. Here you will find frequently asked questions about the Extranet and a button to send a request in case of additional questions or doubts.
Requests submitted using the "Send Request" button will be forwarded to our IT department and we do our utmost to answer them within 24 hours. Before its' submitting, please check if your question hasn't already been answered in the FAQ section. The search button is there to assist you in finding useful answers.
The FAQ (Frequently Asked Questions) section will grow over time to include new explanations of the questions asked by our Customers.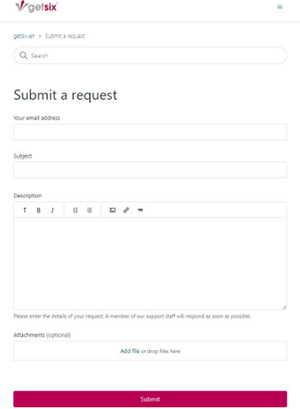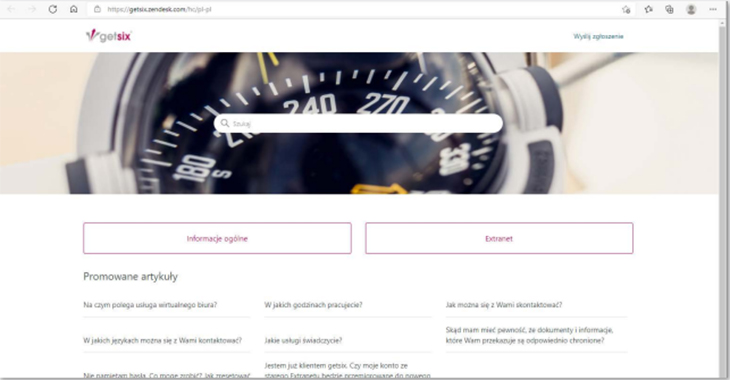 ---
By clicking on your customer name on the getsix® Customer Extranet page you access the Customer Area. On the left side of the screen, you will find the main navigation menu with which you can navigate through the individual contents provided for your company. In this menu you will find the tabs:
Business Services

- those of you who have an active virtual office service here will find their scanned correspondence.

Accounting & Payroll

- this section contains 2 libraries with accounting documents (2-1-Accounting) and HR documents (2-2-Payroll).

Data Analytics

- this section makes available financial reports and analyses based on data from your documents in the system.

Advisory

- here you will find answers from our lawyers to your queries.
The appearance of the Main Menu for your company depends on the scope of services ordered by you. The user gets access to those tabs for which a contract has been signed, so it may happen that he has access to the "Accounting Services", section, but not to the "Payroll Services" or "Business Services". For administrative and legal reasons, the information for each service or for each contract are stored in a separate document library. We call this area a library because here we save the documents and reports that we produce and make available to you. The documents in this section are read-only ones giving protection against accidental deletion or alteration of data being thus an additional safeguard.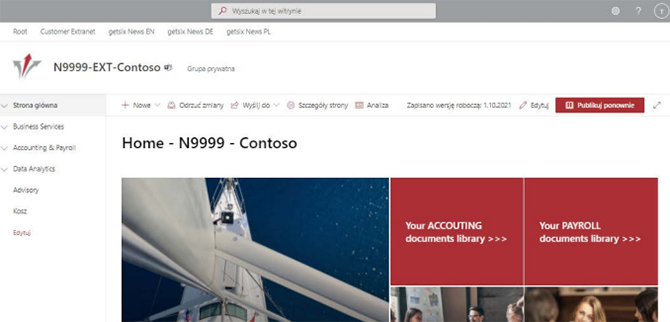 ---
Accounting & Payroll \ 2-1-Accounting
By accessing the "2-1-Accounting", tab, in the document area you will find your standard financial and accounting reports in PDF format, grouped in separate folders as per respective financial year:
Monthly reports

Annual financial accounts

Open items

Economic analyses

Other documents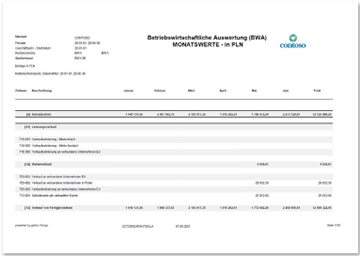 If you prefer a different organisational structure, we can easily adapt the layout of the folders to your expectations and needs.
Of course, most reports will bear your company logo so that you can use them for both internal and external purposes. We can also adapt all reports to your requirements and expectations.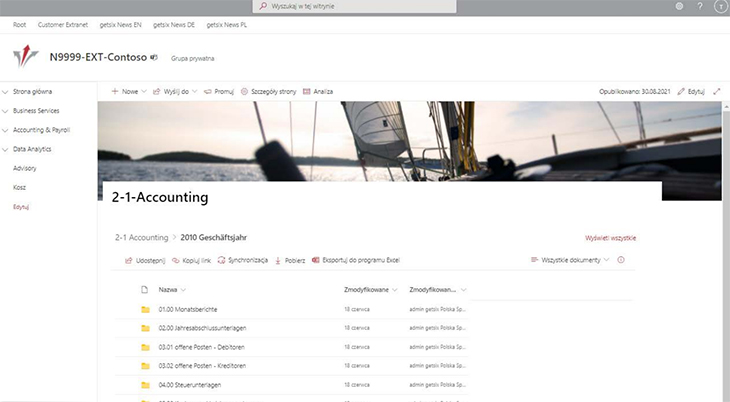 ---
Acounting & Payroll / 2-2-Payroll Services
In the document area "2-2-Payroll", you will find important HR and Payroll reports such as e.g. payroll lists, social security contributions, taxes, list of accounts. If you make use of the trial access, you can view sample reports in this area and convince yourself of the advantages of professional reporting.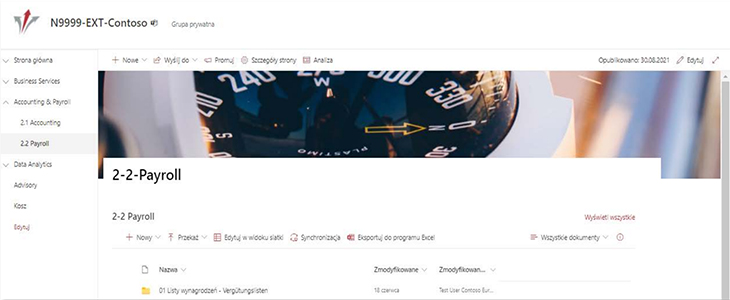 ---
Business services / 1.1 Office Services
If we provide you with "1.1 Office Services", in this area you will find chronologically sorted your complete postal correspondence, faxes and e-mails that we have received on your behalf.

---
Automatic notification function - "Alert me"
An important and extremely useful feature of the "getsix® Customer Extranet" is the automatic notification when documents are added to the catalog or document library.
Users who enable this feature will receive e-mail or SMS notifications about changes in the document area. These notifications can be sent: immediately, daily, at specified times or weekly reports. This is a useful feature that allows you to stay up to date with information and changes about your company.
This function must be activated by each user personally.
Access the library of your choice,
Select the "View All" option on the right side of the library,
Expand the hidden options: "..." and select "Send me an alert",
In the last step select the alert settings and confirm with "OK".