Additional two days off for blood donors
We would like to inform you that two days off for blood donors are being permanently introduced into the legal system. This change in the Public Blood Service Act will certainly please donors.
According to the new wording of Article 9(1)(1), merited honorary blood donors of both sexes are entitled to time off from work and business activities not only on the day of blood donation but also on the following day, as well as for the periodic medical examination. Importantly, the changes will come into effect as early as 20 April 2023, meaning that people who choose to donate blood will soon be able to take advantage of this entitlement.
It is worth noting that the number of days off that blood donors are entitled to depends on the frequency of blood donation. A woman as a whole blood donor will be entitled to up to 8 days off per year, while a man as a whole blood donor will be entitled to up to 12 days off per year. The difference is due to the fact that a woman can donate whole blood up to 4 and a man up to 6 times a year. However, it is important to remember that the interval between blood donations must be at least 8 weeks.
In view of the above, we encourage you to take a closer look at these changes, which bring positive improvements to the lives of blood donors. Blood donation is a unique and precious gift that can save someone's life. With these changes now in place, blood donors will have more time to rest and recuperate after a blood donation, which will have a positive impact on their health and well-being.
If you have any questions regarding this topic or if you are in need for any additional information – please do not hesitate to contact us:
CUSTOMER RELATIONSHIPS DEPARTMENT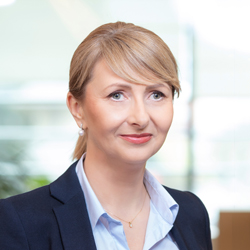 ELŻBIETA NARON
Head of Customer Relationships
Department / Senior Manager
getsix® Group



***
This publication is non-binding information and serves for general information purposes. The information provided does not constitute legal, tax or management advice and does not replace individual advice. Despite careful processing, all information in this publication is provided without any guarantee for the accuracy, up-to-date nature or completeness of the information. The information in this publication is not suitable as the sole basis for action and cannot replace actual advice in individual cases. The liability of the authors or getsix® are excluded. We kindly ask you to contact us directly for a binding consultation if required. The content of this publication iis the intellectual property of getsix® or its partner companies and is protected by copyright. Users of this information may download, print and copy the contents of the publication exclusively for their own purposes.