Core inflation decreases – new data from the National Bank of Poland
Every month, the National Bank of Poland runs an analysis of four core inflation indicators, which is an important instrument for understanding price dynamics in Poland. The main indicator, the Consumer Price Index (CPI), reflects the average price changes within an extensive market basket of products and services purchased by consumers. However, the process of calculating core inflation indicators requires a detailed analysis of prices in various categories within this market basket. This allows a precise understanding of the causes for inflation, forecasting future inflation trends, and determining the extent to which price increase is permanent or due to short-term, unpredictable factors.
On October 16, 2023, the National Bank of Poland released a statement on core inflation indicators for September 2023. Annual inflation rate:
Excluding administered prices (subject to government control) stood at 6.8%, down from 8.9% the previous month
Excluding the most volatile prices reached 10.9%, down from 12.7% the previous month

Excluding food and energy prices, it was 8.4%, down from 10.0% the previous month

The 15% average, which eliminates the effect of the 15% of price items with the lowest and highest dynamics, was at 9.3%, down from 11.0% the previous month.
The most commonly used indicator by economists is the core inflation rate, which excludes the prices of food and energy prices. This metric indicator focuses on price trends in areas where the central bank's monetary policy typically has a greater impact. Energy prices, including fuel prices, are usually determined on global markets and are subject to external influences, including speculation. Food prices, on the other hand, are largely dependent on factors such as weather conditions and the situation in domestic and international markets.
If you have any questions regarding this topic or if you are in need for any additional information – please do not hesitate to contact us:
CUSTOMER RELATIONSHIPS DEPARTMENT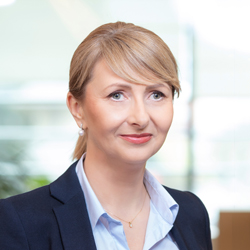 ELŻBIETA NARON
Head of Customer Relationships
Department / Senior Manager
getsix® Group



***
This publication is non-binding information and serves for general information purposes. The information provided does not constitute legal, tax or management advice and does not replace individual advice. Despite careful processing, all information in this publication is provided without any guarantee for the accuracy, up-to-date nature or completeness of the information. The information in this publication is not suitable as the sole basis for action and cannot replace actual advice in individual cases. The liability of the authors or getsix® are excluded. We kindly ask you to contact us directly for a binding consultation if required. The content of this publication iis the intellectual property of getsix® or its partner companies and is protected by copyright. Users of this information may download, print and copy the contents of the publication exclusively for their own purposes.