"Coffee with…"
– Mr. Adam Rybiałek, chief accountant at getsix Wrocław
We like to meet our work colleagues and find out more about each other having a cup of good coffee or tea together. This time we get to know Adam Rybiałek better, who is Chief Accountant at getsix Wrocław since November 2022. What did he before working at getsix? Can accounting and taxes be interesting? What is most important to him in life, what are his greatest passions and how does he like to spend his free time?
We are talking in the series "A cup of coffee with…", so let's start with the key question – what do you prefer: coffee or tea?
Definitely coffee. As a rule, a small black, but recently at getsix I take – after a break of many years – coffee with milk. For me, this is a form of contact with other colleagues, it encourages a moment of conversation, getting to know each other better, and exchanging opinions. We have two kitchens in the company, so there is always a place and someone to talk to. Coffee taken in the company of other people tastes different, better, and special.
Are you working already a long time at getsix?
What was your previous job and how long do you live already in Wroclaw?
I have been working at getsix, in the position of chief accountant, since 1 November 2022. I am 42 years old and I have graduated in economics with a degree in finance and accounting. I come from Radomsko, in the Lodz Voivodeship. I came to Wrocław in 2005 for postgraduate studies at the Academy, now the University of Economics. I also completed my MBA at the School of Banking. My entire 18-year professional career has been connected with accounting, I've started as an accountant, then I was the head of the financial department, chief accountant, and so on up to financial director.
And what do you do at getsix?
I am the head of the accounting department, which consists of 11 people. We deal with tax issues, financial and accounting services for getsix customers, in total – more than 30 companies from various industries. We have manufacturing, trading, service as well as property rental companies, and freelancers. Each of these companies needs to be well known in order to be able to do our job as well as possible.
Can accounting be passionate?
Many people associate it with a boring job.
I've always liked numbers, so I'm probably not quite objective, but I don't think tax or accounting are boring subjects. First of all, you have to apply learning yourself, because the regulations change frequently, besides, depending on the business, the accounting departments are very different, and by understanding the numbers you can learn a lot about the organism that is the company. It is very interesting to be able to trace in numbers the condition of a company, its strengths and weaknesses, and in this way to support the management of companies in their business development. We really feel we are an important part of any organisation. Without passion and commitment, it is impossible to be a good professional in our occupation.
Who, then, is a job in accountancy for?
What character traits and qualifications do you need to have in order to be successful in it?
In accounting, there is a place for both: specialists, overseeing the accounting matters of the entire company, as well as for people who can only deal with a certain section of the company's activities. The most important thing is to be conscientious, accurate, and also responsible. Remember that more and more work in accounting is being automated. The programmes process repetitive activities, but this does not eliminate the human factor, because someone still has to supervise these processes. Importantly, it is not at all necessary to have a degree in accounting, although of course studies related to accounting or finance help. If you are studying such a course, the most important thing is to acquire practical knowledge as a student, do internships and thus learn the profession from scratch. This will bear fruit in the future by providing a good basis for climbing the career ladder.
There is a lot of talk lately on the subject of re-branding.
Is it possible to become an accountant in your forties, for example?
Of course, although it is certainly not easy, accounting, like many other professions, can be done at any age. Bookkeeping is done on accounting softwares. These are rather intuitive for people who are comfortable with computers and familiar with basic programmes such as Word or Excel. The work at the first levels is rather repetitive and if one is willing to learn, one is able to learn the basics well within a year. However, the most important thing is to be conscientious in your work and to like all the issues involved. Then there is joy in the work, and most importantly, there are positive results. I admire people who are able – often after many years – to say stop to their old career, implement changes and retrain in a completely new direction, find themselves again, and enjoy their work. This is a really big challenge.
One last question on the professional aspect.
In your opinion, is accountancy a profession with a future?
Definitely, yes. Taxes were, are, and will be, so our job will be too. I think it's one of the most secure professions on the market, stable and resistant to financial turbulence. Also, well paid. The world is changing in a way that automation is entering every area of life, also in taxes. Countries are already starting to audit and seal tax systems using accounting data analysis, which means that the accounting department is required to send monthly data summaries to the government system. Auditors do not painstakingly sift through thousands of documents in search of inaccuracies, but the software analyses the data and gives them a ready-made list of issues to be investigated. In Poland, a typical example is the JPK file (Standard audit file/SAF), which has been in operation for many years, but automation goes further. From 2024 onwards, KSeF (National e-Invoicing System) will be mandatory for which we all need to prepare – clients, tax offices and accounting system providers alike. As I have already mentioned, the future of the accounting profession is primarily about the substantive supervision of financial and accounting programmes. These are getting better and better, but they will never fully replace a human being.
However, there is more to life than the professional sphere.
When you hear the phrase 'after work', what is your first thought?
I am a husband and father of three children, two sons (13 and 10 years old) and an almost 5-year-old daughter. Therefore, my private life is first and foremost family. Raising three children is a demanding task. My wife and I are trying to spend as much time as possible with the children. It's mostly obligations, getting the children to school, and to extracurricular activities, but we also look for excursions or trips together: by bike or by car. We recently conquered the Chocholowska Valley in the Tatra Mountains: 8 km one way and 8 km the other. The conditions were not easy – snow and sometimes even walking on ice, but also the sunshine, the sound of a mountain stream, and the beautiful views – this is what gives us satisfaction. I was proud of the kids for making it. Last year, for example, we also managed to visit Vilnius, which is a beautiful city.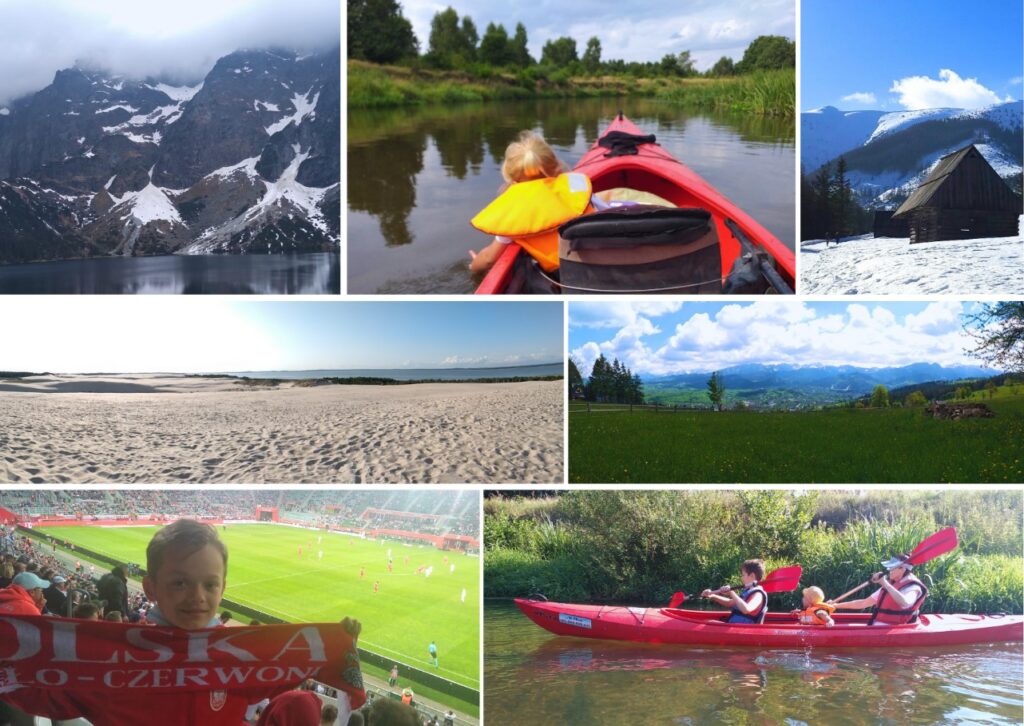 What else do you like to do in your spare time?
My 13-year-old son is very interested in history. It was his idea to go to the Lithuanian capital and learn more about it. My younger son is a footballer. He plays for the Sleza Wroclaw football Academy in the under-10 category. He has even managed to become the top scorer twice at football tournaments! This passion for football can also be seen when we travel and try to visit local stadiums. We've had the opportunity to see all the biggest venues in Poland, and we've also been to the Polish National Team's matches in Wrocław or Śląsk Wrocław's league matches. We were able to get in the car on a Sunday, go, for example, to lunch in Poznań, have a walk over the market square, see the stadium, and come back home.
Which stadium did your son like best?
Definitely the National Stadium in Warsaw and the stadium in Gdańsk. They made the biggest impression on us. The stadium in Białystok is also beautiful, although the city itself is not such a popular place.
And is your daughter already showing her first passions?
She's gradually being drawn to dance, but for the moment she's still searching. Of course, like probably every woman, she is already interested in fashion. She checks whether the shoes match the dress, and sometimes in the morning, we look for the right combination. It was a bit easier with the boys in this respect (laughs). Having a daughter, on the other hand, also helps me at work, where I work mainly with women.
What is the most beautiful place you have been on your travels?
From Poland, we love Masuria. Canoeing down the Krutynia River, nature, and lakes. A completely different world from Wrocław. Incredible silence, peace, relaxation, and rest. There are many beautiful rivers in Poland where canoeing trips take place. The proximity of sun and water on the canoes is amazing. My younger son went canoeing for the first time when he was three, and my daughter when she was two. They were delighted. We also like the mountains and the sea. I think we have visited almost the entire Polish coast – from Świnoujście to Krynica Morska. The moving dunes in Łeba are worth seeing, of course, I recommend reaching them on foot… (laughs). The salt mine in Wieliczka, which we recently visited, is also beautiful. An amazing place where children are nevertheless not bored. Very often, when we travel around Poland, we don't choose the shortest or fastest route, but rather a route, for example, a scenic or historical one, during which we stop at various places and visit them on this occasion.
What about your biggest dream of going abroad?
In 2020, we were to go by car to the south of France. On the way, we were to see the Alps and Lake Constance up close. Stop for a while in southern Germany, see the sights in Italy, and tour Switzerland by panoramic railway. However, the pandemic started and all our plans crushed. I hope to return to this idea.

My dream is also to discover Latin America, especially places with remnants of ancient civilisations. You could visit a lot of places, learn a lot and also relax.
Final question. If you could be someone else for a day, who would you want to be and why?
I think a doctor. It's a difficult profession but hugely rewarding. I like fixing things and improving processes, so maybe it would be the same with people. Maybe a kitchen chef, because I get a lot of joy from preparing meals for my family. Although it's mainly my wife, with great success, who cooks at home, (laughs) I sometimes 'substitutional' or at weekends prepare something for an evening or Sunday morning. When thinking it over longer, however, I still find working in accounting the most satisfying, so much that I will probably still be working in finance in 10 years' time. And I like that vision very much! (laughs)