Swedes invest in cellulose fibre packaging production in Kostrzyn
The paper manufacturer Arctic Paper and the Swedish cellulose producer Rottneros AB have contractually agreed on a joint venture for the construction of a paper mill in Kostrzyn nad Odra. The site, located at the border crossing to Germany, will produce molded cellulose fiber packaging from the end of this year. The value of the investment is estimated at around 240 million Swedish kronor (~27 million euros). As Arctic Paper informs in a mandatory stock exchange release, production is scheduled to start by the end of this year. Arctic Paper, listed on the Warsaw Stock Exchange, has been operating a paper mill in Kostrzyn since 1993 (previously under the name Trebuk AB). With an annual production capacity of 315,000 tons, the company is the largest paper manufacturer in Poland, specializing in high-quality graphic papers for book printing, among other applications. Over 70 percent of production is exported. The main shareholder of Arctic Paper is the Swedish Nemus Holding AB.
With the new mill for the production of molded cellulose fiber packaging now agreed with Rottneros, Arctic Paper is following the pioneering trend of replacing plastic and synthetic packaging with environmentally friendly materials. For this purpose, food packaging made of fiber pulp will also be produced in Kostrzyn in the future. The raw material will be pulp from Rottneros. In addition to its two pulp mills in Sweden, Rottneros AB already produces fossil-free packaging trays from molded cellulose fiber at its Sunne mill using a specially developed technology. Compared to the Swedish mill, production at the Kostrzyn mill in Poland will be significantly higher. A production capacity of around 80 million packaging units per year is planned.
Source: Wirtschafts-Markt Polen (03-2023 Issue 324)
If you have any questions regarding this topic or if you are in need for any additional information – please do not hesitate to contact us:
CUSTOMER RELATIONSHIPS DEPARTMENT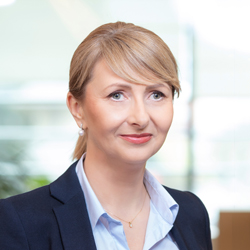 ELŻBIETA NARON
Head of Customer Relationships
Department / Senior Manager
getsix® Group



***
This publication is non-binding information and serves for general information purposes. The information provided does not constitute legal, tax or management advice and does not replace individual advice. Despite careful processing, all information in this publication is provided without any guarantee for the accuracy, up-to-date nature or completeness of the information. The information in this publication is not suitable as the sole basis for action and cannot replace actual advice in individual cases. The liability of the authors or getsix® are excluded. We kindly ask you to contact us directly for a binding consultation if required. The content of this publication iis the intellectual property of getsix® or its partner companies and is protected by copyright. Users of this information may download, print and copy the contents of the publication exclusively for their own purposes.