Start of production of Jeep Avenger in Tychy
At the car plant in Tychy (formerly Fiat-Chrysler), the Stellantis Group has started regular production of the Jeep Avenger. The fully electrified vehicle is the first Jeep produced by the car company in Poland. The Jeep Avenger is a vehicle from the B-segment of SUVs. The vehicle was named "Car of the Year 2023" at its world premiere at the Paris Motor Show.
The Jeep Avenger is the first of three new electric and hybrid models to be produced in Tychy by Stellantis. Previously, the standard Fiat 500 model was produced there, as well as the related Abarth 500 model and the Lancia Ypsilon. Last year, 167,000 cars were produced there, of which 115,000 were Fiat 500s. Following the merger of Fiat-Chrysler with French carmaker PSA (Peugeot, Citroen) to form the Stellantis Group, which was completed last year, and the restructuring of production, the Stellantis plant in Tychy will produce the new electric and hybrid models of the Fiat and Alfa Romeo brands. At the Stellantis plant in Gliwice, on the other hand, which specialized in the production of the Opel Astra for more than two decades, passenger car production was discontinued. At the restructured plant in Gliwice, Stellantis now produces vans in various model variants, heights, and lengths on a uniform platform. These include the Peugeot Boxer, Citroen Jumper, Fiat Ducato, and Opel Movano.
Source: Wirtschafts-Markt Polen (03-2023 Issue 324)
If you have any questions regarding this topic or if you are in need for any additional information – please do not hesitate to contact us:
CUSTOMER RELATIONSHIPS DEPARTMENT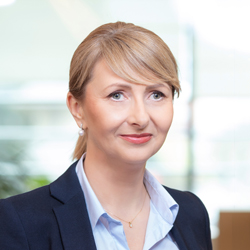 ELŻBIETA NARON
Head of Customer Relationships
Department / Senior Manager
getsix® Group



***
This publication is non-binding information and serves for general information purposes. The information provided does not constitute legal, tax or management advice and does not replace individual advice. Despite careful processing, all information in this publication is provided without any guarantee for the accuracy, up-to-date nature or completeness of the information. The information in this publication is not suitable as the sole basis for action and cannot replace actual advice in individual cases. The liability of the authors or getsix® are excluded. We kindly ask you to contact us directly for a binding consultation if required. The content of this publication iis the intellectual property of getsix® or its partner companies and is protected by copyright. Users of this information may download, print and copy the contents of the publication exclusively for their own purposes.