Polenergia opens one of the largest wind farms in Poland
The private company Polenergia has opened FW Dębsk, its largest wind farm. With a projected annual output of 366 GWh, equivalent to the electricity needs of around 180,000 private households, it is also one of the largest wind farms in Poland. It is located around 60 kilometres north of Warsaw. It is made up of 55 Vestas V 110-2.2 turbines with a total capacity of 121 MW. Polenergia has received a 15-year guarantee to sell energy from the FW Debsk wind farm for the price offered at the 2019 auction. FW Dębsk is now the eleventh wind farm in the company's portfolio, which now comprises 472 MW. Polenergia is a private group of companies owned by billionaire heiress Dominika Kulczyk. The company's main strategic project is the construction of an offshore wind farm together with Norwegian energy company Equinor. The planned wind farm in the Polish Baltic Sea is projected with a total capacity of 3000 MW.
Source: Wirtschafts-Markt Polen (03-2023 Issue 324)
If you have any questions regarding this topic or if you are in need for any additional information – please do not hesitate to contact us:
CUSTOMER RELATIONSHIPS DEPARTMENT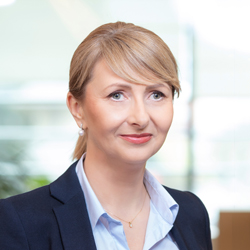 ELŻBIETA NARON
Head of Customer Relationships
Department / Senior Manager
getsix® Group



***
This publication is non-binding information and serves for general information purposes. The information provided does not constitute legal, tax or management advice and does not replace individual advice. Despite careful processing, all information in this publication is provided without any guarantee for the accuracy, up-to-date nature or completeness of the information. The information in this publication is not suitable as the sole basis for action and cannot replace actual advice in individual cases. The liability of the authors or getsix® are excluded. We kindly ask you to contact us directly for a binding consultation if required. The content of this publication iis the intellectual property of getsix® or its partner companies and is protected by copyright. Users of this information may download, print and copy the contents of the publication exclusively for their own purposes.