Extension of deadlines for filing CIT returns for 2022

We would like to inform you that on 21 March 2023, a regulation was published in the Journal of Laws 2023, item 530 extending the deadlines for filing corporate income tax returns for the tax year that ended between 1 December 2022 and 28 February 2023. The extended deadline also applies to the payment of the tax due indicated in the declaration or the difference between the tax due on the income indicated in that declaration and the sum of the advance payments paid for the period from the beginning of the year.
The deadline has been extended to 30 June 2023.
The deadlines have also been extended to 30 June 2023:
to file the return for taxpayers taxed with a lump sum on corporate income (the so-called Estonian CIT) referred to in Article 28r(1) of the CIT Act for the tax year that ended in the period from 1 December 2022 to 28 February 2023,
to the fulfilment by corporate income taxpayers of the obligations referred to in Article 7aa(9)(2) and (4) of the CIT Act, if the first year of taxation of such taxpayers with a lump-sum tax on corporate income has begun in the period from 1 January 2023 to 1 March 2023,
to file a notice referred to in Article 28(1) of the CIT Act to file the information specified in that provision as of 31 December 2022.
---
Source: article prepared by our cooperation partner TaxAGroup


If you have any questions regarding this topic or if you are in need for any additional information – please do not hesitate to contact us:
CUSTOMER RELATIONSHIPS DEPARTMENT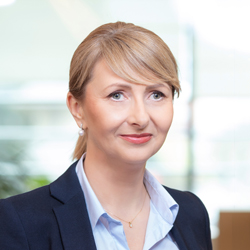 ELŻBIETA NARON
Head of Customer Relationships
Department / Senior Manager
getsix® Group



***
This publication is non-binding information and serves for general information purposes. The information provided does not constitute legal, tax or management advice and does not replace individual advice. Despite careful processing, all information in this publication is provided without any guarantee for the accuracy, up-to-date nature or completeness of the information. The information in this publication is not suitable as the sole basis for action and cannot replace actual advice in individual cases. The liability of the authors or getsix® are excluded. We kindly ask you to contact us directly for a binding consultation if required. The content of this publication iis the intellectual property of getsix® or its partner companies and is protected by copyright. Users of this information may download, print and copy the contents of the publication exclusively for their own purposes.