Commissioning of the car tunnel to the island of Usedom announced for May
The construction of a car tunnel connecting the island of Usedom with the Polish mainland is nearing completion. According to the General Directorate for National Roads and Motorways (GDDKiA) in Szczecin, all structural work has been completed. At present, the asphalt is still being laid on the two-lane carriageways. The tunnel is then scheduled to be opened in May (originally planned for fall 2022). Once open, it will then be Poland's longest underwater tunnel link. Located 39 meters below the water level at its deepest point, the entire tunnel has a length of 1780 meters. Tunnel drilling was started in 2021. The Austrian construction company Porr was responsible for the construction together with the Turkish company Gülermak. Construction costs were originally planned at 220 million euros, 85 percent of which will be co-financed by the EU. However, the final bill certainly will be higher. Until now, the town of 40,000 inhabitants on the Polish side of the vacation island of Usedom has only been accessible by decrepit car ferries. During the summer season and often at weekends, crossing the Swina River usually involves long waiting times for car drivers. Once the tunnel is operational, the ferries will be closed with one exception.
Source: Wirtschafts-Markt Polen (03-2023 Issue 324)
If you have any questions regarding this topic or if you are in need for any additional information – please do not hesitate to contact us:
CUSTOMER RELATIONSHIPS DEPARTMENT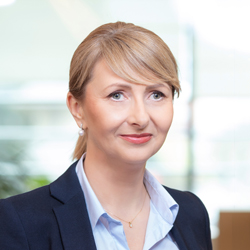 ELŻBIETA NARON
Head of Customer Relationships
Department / Senior Manager
getsix® Group



***
This publication is non-binding information and serves for general information purposes. The information provided does not constitute legal, tax or management advice and does not replace individual advice. Despite careful processing, all information in this publication is provided without any guarantee for the accuracy, up-to-date nature or completeness of the information. The information in this publication is not suitable as the sole basis for action and cannot replace actual advice in individual cases. The liability of the authors or getsix® are excluded. We kindly ask you to contact us directly for a binding consultation if required. The content of this publication iis the intellectual property of getsix® or its partner companies and is protected by copyright. Users of this information may download, print and copy the contents of the publication exclusively for their own purposes.