Despite a massive decline in demand – housing prices are on the rise
After years of boom in the residential real estate market, housing development companies sold only 40,900 new homes in the country's seven largest cities last year, according to Poland's largest real estate portal Otodom. This is the lowest annual figure since 2014 and represents a decline of 35 per cent compared to 2021. At 38 per cent, the decline is also similar for private owner-occupied homes.
Despite the drop in sales figures, prices for sold residential units in major Polish cities increased by 9 per cent year-on-year to 11,800 Złoty (~€2,525) per m2 in 2022, according to Otodom. The largest increase was recorded in the capital city – Warsaw with 14 per cent, followed by Katowice with 12 per cent. According to most real estate experts, housing prices are not expected to fall nominally in the coming months due to the high costs incurred for development and the high costs of materials and labour. Only in individual cases the housing developers, who have been pressed to repay their loans to the banks, will be willing to make price concessions when selling their flats.
Source: Wirtschafts-Markt Polen (01-2023 Issue 322)
If you have any questions regarding this topic or if you are in need for any additional information – please do not hesitate to contact us:
CUSTOMER RELATIONSHIPS DEPARTMENT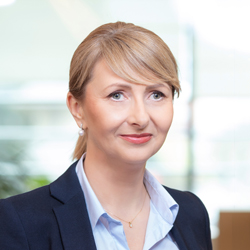 ELŻBIETA NARON
Head of Customer Relationships
Department / Senior Manager
getsix® Group



***
This publication is non-binding information and serves for general information purposes. The information provided does not constitute legal, tax or management advice and does not replace individual advice. Despite careful processing, all information in this publication is provided without any guarantee for the accuracy, up-to-date nature or completeness of the information. The information in this publication is not suitable as the sole basis for action and cannot replace actual advice in individual cases. The liability of the authors or getsix® are excluded. We kindly ask you to contact us directly for a binding consultation if required. The content of this publication iis the intellectual property of getsix® or its partner companies and is protected by copyright. Users of this information may download, print and copy the contents of the publication exclusively for their own purposes.