Industrial production – growth declines in instalments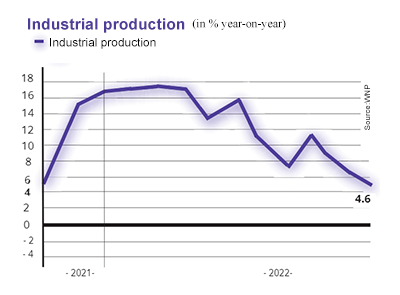 Industrial production increased by 4.6 per cent year-on-year in November. Compared to the previous month, growth was 2.9 per cent, according to the Central Statistical Office (GUS). Although the positive result was well above market forecasts, the majority of analysts do not see this as a reason for an optimistic outlook. In their view, the growth was fed by an anomaly in electricity production. Thus, the production and supply of electricity and gas increased by 23.5 per cent year-on-year.
Analysts at mBank point out that after adjusting for seasonal factors, manufacturing output is already in slightly negative territory. The economic slowdown is gradual, and the lowest point has not yet been reached. Overall, the statistics authority reports a decline in production in 14 of 34 industrial sectors. As in previous months, the production of chemical products is one of the sectors with the highest decline. In the case of industrial prices, the statisticians recorded a slight decline for the first time in two years. Industrial prices rose by 20.8 per cent year-on-year in November. In the previous month, it was still 23.1 per cent. According to the GUS, the current monthly comparison shows a slight decline of 0.5 per cent. For the Polish Institute of Economics (PIE), however, the decline is only the effect of falling prices for oil and natural gas on the world markets. For the consumer, this does not result in any relief. On the contrary, according to economic forecasts, prices for basic foodstuffs are expected to rise by another 20 to 30 per cent in the first months of the new year.
Source: Wirtschafts-Markt Polen (01-2023 Issue 322)
If you have any questions regarding this topic or if you are in need for any additional information – please do not hesitate to contact us:
CUSTOMER RELATIONSHIPS DEPARTMENT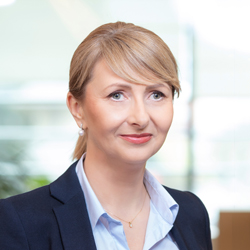 ELŻBIETA NARON
Head of Customer Relationships
Department / Senior Manager
getsix® Group



***
This publication is non-binding information and serves for general information purposes. The information provided does not constitute legal, tax or management advice and does not replace individual advice. Despite careful processing, all information in this publication is provided without any guarantee for the accuracy, up-to-date nature or completeness of the information. The information in this publication is not suitable as the sole basis for action and cannot replace actual advice in individual cases. The liability of the authors or getsix® are excluded. We kindly ask you to contact us directly for a binding consultation if required. The content of this publication iis the intellectual property of getsix® or its partner companies and is protected by copyright. Users of this information may download, print and copy the contents of the publication exclusively for their own purposes.