Ukrainians set up over 10 000 companies in Poland
Ukrainian citizens founded 10,207 companies in Poland in the first three quarters of this year, reports the Polish Institute of Economics (PIE). There has been a dynamic upward trend since the beginning of the war in Ukraine. While only 188 companies were founded in January, as many as 2273 companies were already registered by Ukrainians in September. According to PIE data, almost every tenth company in Poland belongs to Ukrainian citizens.
Surprising and somewhat irritating against the background of the Ukrainian mobilisation requirements to take part in the fighting is the high proportion of men as company founders. Almost 60 percent of Ukrainian company founders are men. The main areas in which they set up companies are the auxiliary construction trade and the transport industry. By contrast, Ukrainian women founded almost 4,200 companies by the end of September. Almost 90 per cent of these companies were established in the beauty and hair services industry.
Source: Wirtschafts-Markt Polen (16-2022 Issue 320)
If you have any questions regarding this topic or if you are in need for any additional information – please do not hesitate to contact us:
CUSTOMER RELATIONSHIPS DEPARTMENT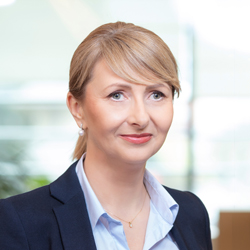 ELŻBIETA NARON
Head of Customer Relationships
Department / Senior Manager
getsix® Group



***
This publication is non-binding information and serves for general information purposes. The information provided does not constitute legal, tax or management advice and does not replace individual advice. Despite careful processing, all information in this publication is provided without any guarantee for the accuracy, up-to-date nature or completeness of the information. The information in this publication is not suitable as the sole basis for action and cannot replace actual advice in individual cases. The liability of the authors or getsix® are excluded. We kindly ask you to contact us directly for a binding consultation if required. The content of this publication iis the intellectual property of getsix® or its partner companies and is protected by copyright. Users of this information may download, print and copy the contents of the publication exclusively for their own purposes.