Start of construction for the expansion of the Gdansk container port
Construction work on the third terminal (T3) has begun at the Port of Gdansk on the Baltic Hub container terminal (formerly DCT Gdansk). In the first instance, the multi-phase plan envisages the construction of a 36-hectare platform adjacent to the T1 terminal. Afterwards, a 717-metre-long quay with a water depth of 17.5 metres will be built. As part of the investment project, 7 new container gantry cranes and an additional 20 automatic rail-mounted RMG gantry cranes will be built. The construction works will be led by the Polish construction group Budimex and the companies specializing in deepening the seabed, Dredging International NV. The investment is worth around 450 million euro. After the expansion, the loading capacity of the container port will increase by 1.7 million containers to 4.5 million TEU. As an operator of the container port, PSA assumes that the third terminal will create the basis for competing with the large container ports such as Rotterdam or Hamburg in Europe and that the port of Gdansk will not only serve the Polish market but the entire region.
The container port was put into operation 15 years ago. Its capacity was only 500,000 TEU at the time. With two wharves it handled 2.09 million TEUs last year. The owners are PSA International (40%), which also operates the world's largest container port in Singapore, the IFM Global Infrastructure Fund (30%), and the state investment fund PFR (30%).
*TEU (twenty-feet equivalent unit)
A unit of measurement representing the carrying capacity; used for ports and container ships. It is equivalent to the volume of a 20-foot ISO container. A standardised ISO Series 1 container is equivalent to 2TEU.
Source: Wirtschafts-Markt Polen (17-2022 Issue 321)
If you have any questions regarding this topic or if you are in need for any additional information – please do not hesitate to contact us:
CUSTOMER RELATIONSHIPS DEPARTMENT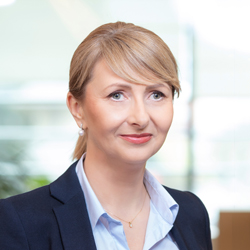 ELŻBIETA NARON
Head of Customer Relationships
Department / Senior Manager
getsix® Group



***
This publication is non-binding information and serves for general information purposes. The information provided does not constitute legal, tax or management advice and does not replace individual advice. Despite careful processing, all information in this publication is provided without any guarantee for the accuracy, up-to-date nature or completeness of the information. The information in this publication is not suitable as the sole basis for action and cannot replace actual advice in individual cases. The liability of the authors or getsix® are excluded. We kindly ask you to contact us directly for a binding consultation if required. The content of this publication iis the intellectual property of getsix® or its partner companies and is protected by copyright. Users of this information may download, print and copy the contents of the publication exclusively for their own purposes.