New version of the Instructions for filling in and sending INTRASTAT declarations in Poland
The Customs Department of the Polish Ministry of Finance has published on its page a new version of the Instructions for Completing and Submitting INTRASTAT Declarations (dated July 27, 2022).
These instructions are available under the link: Instructions for filling and sending INTRASTAT
declarations, version 1.15
---
What has changed?
According to the Polish Ministry of Finance:
"The most important change concerns the obligation to include in INTRASTAT declarations trade turnover including Intra-UE Distance Sales of Goods. This obligation applies to both entities that do and do not settle VAT via the one-stop shop (OSS)."
Entities registered as VAT taxpayers in Poland, after exceeding the basic statistical threshold (taking into account the turnover including the tax base from the WSTO OSS tax return), should declare in INTRASTAT declarations all transactions that are subject to the reporting obligation.
The new version of the Instructions also takes into account changes resulting from the amendment of the places of publication of certain legal acts.
---
Change of deadline for submission of INTRASTAT declarations
Beginning with submissions for August 2022, the standard deadline for submission of INTRASTAT declarations – i.e. the 10th of the month following the reporting period – has been reinstated.
Therefore, entities required to submit INTRASTAT declarations should declare statistics on inter-EU trade in goods for August by September 10th, 2022.
---
Legal basis:
§ 4 of the Regulation of the Minister of Finance on INTRASTAT declarations of November 25, 2021. (Journal of Laws of 2021, item 2258 [PL]).
Source: Polish Ministry of Finance Newsletter
If you have any questions regarding this topic or if you are in need for any additional information – please do not hesitate to contact us:
CUSTOMER RELATIONSHIPS DEPARTMENT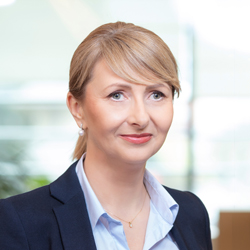 ELŻBIETA NARON
Head of Customer Relationships
Department / Senior Manager
getsix® Group



***
This publication is non-binding information and serves for general information purposes. The information provided does not constitute legal, tax or management advice and does not replace individual advice. Despite careful processing, all information in this publication is provided without any guarantee for the accuracy, up-to-date nature or completeness of the information. The information in this publication is not suitable as the sole basis for action and cannot replace actual advice in individual cases. The liability of the authors or getsix® are excluded. We kindly ask you to contact us directly for a binding consultation if required. The content of this publication iis the intellectual property of getsix® or its partner companies and is protected by copyright. Users of this information may download, print and copy the contents of the publication exclusively for their own purposes.