1 billion zloty for the expansion of the container port in Gdansk
The operator of the container port in Gdansk, DCT Gdansk Sp. z o.o., has signed a PLN 1 billion contract with a consortium led by Polish construction group Budimex for the expansion of the container port.
With the construction of the third Baltic Hub 3 terminal, the Baltic port is set to become one of the largest container terminals in Europe. The loading capacity, which currently stands at 3 million *TEU per year, is to increase to 4.5 million TEU as a result.
Last year, 2.09 million TEUs were handled at the DCT Gdańsk.
The construction work for Baltic Hub 3, which will begin in September, includes the building of a new quay with a length of 717 metres. The quay will be moored next to an 18-metre-deep water tank.
The total area of the third container terminal is 36 hectares. Within the scope of the investment project, 7 new container gantry cranes and an additional 20 automatic rail-bound RMG gantry cranes will be erected.
The owners of the Gdansk container port are the State Investment Fund PFR TFI (30 per cent), the IFM Global Infrastructure Fund (30 per cent) and PSA International Pte Ltd (40 per cent), which is also the port operator.
PSA International Pte Ltd is also the operator of the world's largest container port in Singapore.
*TEU (twenty-feet equivalent unit)
A unit of measurement representing the carrying capacity; used for ports and container ships. It is equivalent to the volume of a 20-foot ISO container. A standardised ISO Series 1 container is equivalent to 2TEU.
If you have any questions regarding this topic or if you are in need for any additional information – please do not hesitate to contact us:
CUSTOMER RELATIONSHIPS DEPARTMENT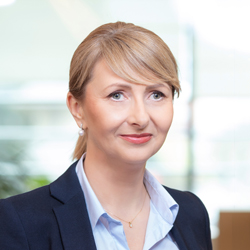 ELŻBIETA NARON
Head of Customer Relationships
Department / Senior Manager
getsix® Group



***
This publication is non-binding information and serves for general information purposes. The information provided does not constitute legal, tax or management advice and does not replace individual advice. Despite careful processing, all information in this publication is provided without any guarantee for the accuracy, up-to-date nature or completeness of the information. The information in this publication is not suitable as the sole basis for action and cannot replace actual advice in individual cases. The liability of the authors or getsix® are excluded. We kindly ask you to contact us directly for a binding consultation if required. The content of this publication iis the intellectual property of getsix® or its partner companies and is protected by copyright. Users of this information may download, print and copy the contents of the publication exclusively for their own purposes.