A three-step framework to develop your sustainability strategy
Following the recent United Nations Climate Change Conference (COP26), we encourage you to have a look at the 2021 Sustainability Report prepared by HLB International.
From the obvious physical effects of climate change such as extreme weather conditions and resource scarcity, to regulatory changes and compliance, and increased demand for sustainability from consumers: the climate crisis has a clear and direct impact on business and business costs. HLB International's sustainability report "Is your strategy sustainable?" outlines a three-step roadmap to help businesses develop their sustainability strategy and explores the technologies that can help at each stage.
How do you reroute your business strategy towards sustainability and eventual de-carbonisation? Start with small but decisive actions and follow our three-step roadmap prepared by HLB International.
Step one – taking a snapshot of your baseline
Step two – targeting a sustainable business model
Step three – monitoring and reporting to realise a sustainable vision
Within each step of the journey the authors highlighted some practical actions you can take to support new strategic objectives, as well as boosting your bottom line. The report also includes key sustainability and technology questions to help you understand your starting point, transform and reshape your business, and measure and report on progress to stay on track.
HLB International – International network of tax and accounting advisors


getsix® is a member of HLB International, a fast-growing and dynamic network of independent professional accounting and business advisory firms. HLB's partners are well established in their respective countries. Many of them are ranked in the national top 12 of accounting and advisory firms.
For more information, please visit the HLB International website: www.hlb.global
If you have any questions regarding this topic or if you are in need for any additional information – please do not hesitate to contact us:
CUSTOMER RELATIONSHIPS DEPARTMENT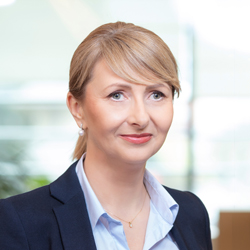 Elżbieta Naron
Head of Customer Relationships
Department / Senior Manager
getsix® Group



***
This circular is non-binding information and serves for general information purposes. The information provided does not constitute legal, tax or management advice and does not replace individual advice. Despite careful processing, all information in this circular is provided without any guarantee for the accuracy, up-to-date nature or completeness of the information. The information in this circular is not suitable as the sole basis for action and cannot replace actual advice in individual cases. The liability of the authors or getsix® are excluded. We kindly ask you to contact us directly for a binding consultation if required. The content of this circular is the intellectual property of getsix® or its partner companies and is protected by copyright. Users of this information may download, print and copy the contents of the circular exclusively for their own purposes.