e-Delivery is getting closer
Originally, the Electronic Delivery Act (e-Delivery) was scheduled to come into force on July 1, 2021, but due to organizational difficulties resulting from COVID-19 pandemic constraints, it was decided to change this date.
The law, as amended, goes into effect on October 5, 2021. However, this date does not create new obligations for everyone. Individual articles of the Act will be introduced gradually – widening the pool of entities obliged to switch to electronic correspondence.
---
When will e-Delivery start?
As of October 5, 2021, entities will be able to request the establishment of an e-Delivery mailbox, but at first it will be voluntary.
Note: According to Article 7 of the Act: "The entry of an e-Delivery address in the e-Delivery address database is equivalent to a request for delivery of correspondence by public entities to that address." This means that once the application has been filed and the mailbox created, public institutions will not be obliged to send paper correspondence!
It depends on the type of entity when the use of the National Electronic Delivery System will be obligatory.
---
What is e-Delivery?
e-Delivery is intended to replace traditional paper correspondence between public institutions and other entities (individuals, entrepreneurs etc.), while preserving the legal value of such correspondence.
Each letter sent through the e-Delivery system will be registered and legally equivalent to a traditional registered letter with acknowledgement of receipt. This solution will also be available for non-public entities corresponding with each other.
---
How to use the e-Delivery system
In order to use the e-Delivery system it will be necessary to set up a special mailbox for e-Deliveries. In order to do so, an appropriate application will have to be filed (except for entrepreneurs registering their business activity in KRS or CEIDG after July 5, 2022. – in these cases the mailboxes will be created automatically) or use the service made available by a non-public provider of e-Deliveries.
After submitting the application, the address will be entered in the database of electronic addresses and from then on it will be possible to use it, i.e. send and receive correspondence.
Please note that the delivery address is not an e-mail address. To use it, you will have to log in to the National Electronic Delivery System or an equivalent application verifying your identity.
---
e-Delivery for entrepreneurs
From 5 July 2022, registration of business activity in the National Court Register (KRS) and Central Registration and Information on Business (CEIDG) will relate to automatic creation of an address for electronic deliveries. The situation is slightly different for entrepreneurs who were registered earlier.
Entities registered in the register of entrepreneurs in KRS have

until 1 October 2022

to create an address for electronic delivery.
Entities registered in the CEIDG have time

till 30 September 2026.
---
e-Delivery for public trust professions
Also from 5th July 2022, the obligation to have an address for e-Delivery will apply to the professionally active representatives of the so called professions of public trust, i.e:
advocates,
legal advisers,
restructuring advisors,
patent attorneys,
notaries public,
advisers of the General Counsel to the Republic of Poland.
---
e-Delivery service vs. ePUAP
According to the information published on the government portal, the e-Delivery mailbox will be completely independent from the existing Electronic Platform of Public Administration Services (ePUAP) platform. It will also not be possible to send messages between these platforms. According to the plans, the e-Delivery system is to completely replace ePUAP in the future.
If you have any questions regarding this topic or if you are in need for any additional information – please do not hesitate to contact us:
CUSTOMER RELATIONSHIPS DEPARTMENT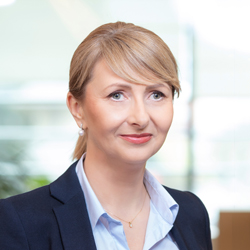 Elżbieta Naron
Head of Customer Relationships
Department / Senior Manager
getsix® Group



***
This circular is non-binding information and serves for general information purposes. The information provided does not constitute legal, tax or management advice and does not replace individual advice. Despite careful processing, all information in this circular is provided without any guarantee for the accuracy, up-to-date nature or completeness of the information. The information in this circular is not suitable as the sole basis for action and cannot replace actual advice in individual cases. The liability of the authors or getsix® are excluded. We kindly ask you to contact us directly for a binding consultation if required. The content of this circular is the intellectual property of getsix® or its partner companies and is protected by copyright. Users of this information may download, print and copy the contents of the circular exclusively for their own purposes.