Industrial production in Poland continues to soar
Industrial production in Poland continues to grow. CIS reported growth of 29.8 percent in May compared to the same month of the previous year. Compared to the previous month of April (44.5 percent increase), it was slightly lower at 0.8 percent.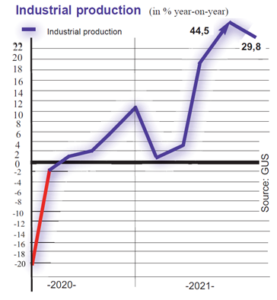 As in April, the high growth in May was largely an effect of the extremely low base of comparison in the previous year. In April 2020 industrial production had fallen by around a quarter, compared with just under 20 percent in May. However, even if this circumstance is disregarded, the result can be considered as very positive. Poland is also in an excellent position within comparison to the EU. 31 out of 34 industry groups achieved growth. The highest growth rate, at around 104 percent, registered the automotive industry, which suffered the greatest decline of almost 60 percent in the same period of the previous year, followed by the furniture industry with 125.8 percent. This then followed by electronics, optical and electrical equipment sectors.
In addition to the inflation indicators in the food, consumer goods and services sectors, the inflation trend among manufacturing producers is also increasingly coming under statistical scrutiny. Following already strong price growth in April (5.5 percent), prices of manufacturing output sold rose another notch in May to 6.5 percent, CIS reports. This is the highest growth in nearly 10 years. The price increase was highest for coke and refined products (70 percent), followed by metal goods (19.6 percent) and chemical products and chemicals (10.6 percent).
Source: Wirtschafts-Markt Polen (09-2021 Ausgabe 296)
We invite you to contact our specialists who are available at your disposal
***
This circular is non-binding information and serves for general information purposes. The information provided does not constitute legal, tax or management advice and does not replace individual advice. Despite careful processing, all information in this circular is provided without any guarantee for the accuracy, up-to-date nature or completeness of the information. The information in this circular is not suitable as the sole basis for action and cannot replace actual advice in individual cases. The liability of the authors or

getsix®

are excluded. We kindly ask you to contact us directly for a binding consultation if required. The content of this circular is the intellectual property of

getsix®

or its partner companies and is protected by copyright. Users of this information may download, print and copy the contents of the circular exclusively for their own purposes.