Countdown: 1 week to 6th Annual getsix® 'Golf Trophy' & 10th Anniversary Party 2017!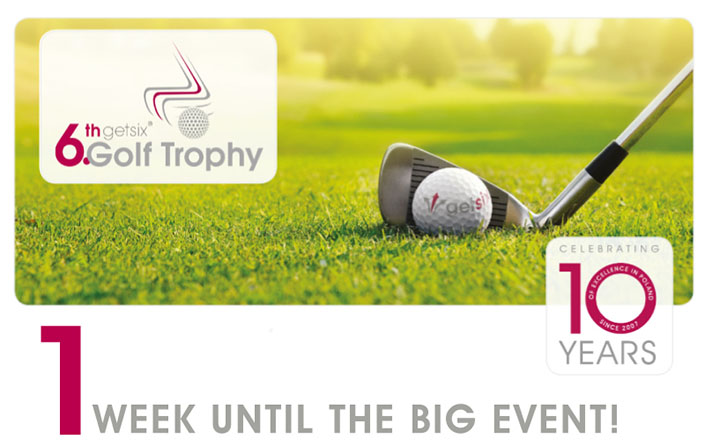 Dear Ladies and Gentlemen,
Partners of the getsix Group would like to invite you to attend our 6th Annual Golf event and party on Saturday 8th July, 2017. Now that you know the date, why not check your diaries, at this year's event we will also be celebrating our 10th Anniversary (2007 to 2017). Yes! getsix® has had the pleasure of servicing our clients for 10 years.
We develop hand-in-hand with our customers and employees
Since 2007, getsix® set out on a journey to achieve a best in class company, supported with a brilliant team of dedicated specialists, within a friendly work environment. With those goals in mind it has allowed us to aim high with regards our customer service and client offering. Client satisfaction has always been our priority.
Major milestones in getsix® evolution
We change under the surface, so our customers receive the service and quality they need and expect. Can we take this opportunity to tell you the story of how we have grown and changed. This is the last week countdown to our big celebration of our 10 year anniversary. We are publishing every week 1 year of our 10 year history, to follow this weekly, please visit our website (www.getsix.eu/news/) or on social media (www.facebook.com/getsix/), why not 'like' us for more information from getsix®.
The year 2016…
Achieved Microsoft Silver Partner
getsix® announced last year that we attained a Microsoft Silver Enterprise Resource Planning (ERP) competency, this completed the set with Silver Hosting and Silver Midmarket Solution Provider as a Microsoft Partner in Microsoft Dynamics NAV. getsix® prides itself in working with a variety of industries, and has established specialisation to allow us to facilitate long-term management for the success of any business
amavat Europe is launched
2016 also seen the launch of amavat Europe, which was created to service the every expanding cross-border e-Commerce industry within the EU. amavat Europe, which is set-up in 9 European countries to date, aims to make VAT compliance simple and seamless by reducing the administrative burden, leaving our clients to focus on their core business.