Countdown: 5 weeks to 6th Annual getsix® 'Golf Trophy' & 10th Anniversary Party 2017!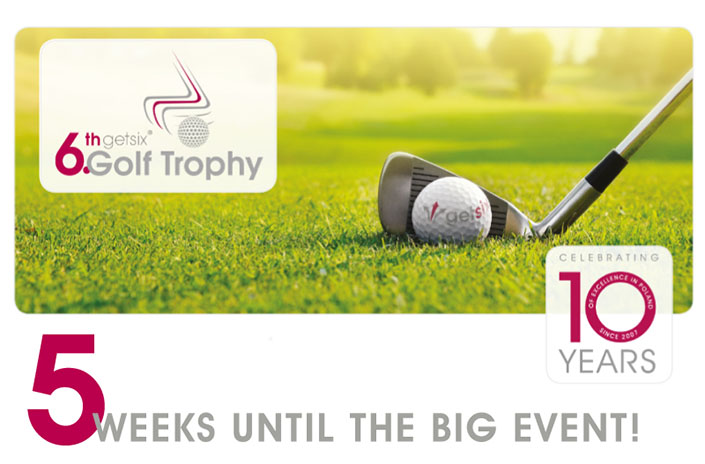 Dear Ladies and Gentlemen,
Partners of the getsix Group would like to invite you to attend our 6th Annual Golf event and party on Saturday 8th July, 2017. Now that you know the date, why not check your diaries, at this year's event we will also be celebrating our 10th Anniversary (2007 to 2017). Yes! getsix® has had the pleasure of servicing our clients for 10 years.
We develop hand-in-hand with our customers and employees
Since 2007, getsix® set out on a journey to achieve a best in class company, supported with a brilliant team of dedicated specialists, within a friendly work environment. With those goals in mind it has allowed us to aim high with regards our customer service and client offering. Client satisfaction has always been our priority.
Major milestones in getsix® evolution
We change under the surface, so our customers receive the service and quality they need and expect. Can we take this opportunity to tell you the story of how we have grown and changed. This is the 6-th of a 10 week countdown to our big celebration of our 10 year anniversary. We are publishing every week 1 year of our 10 year history, to follow this weekly, please visit our website (www.getsix.eu/news/) or on social media (www.facebook.com/getsix/), why not 'like' us for more information from getsix®.
The year 2012…
Opening Warsaw office
In 2012, and after the successful opening of our Poznan office in 2010, getsix® expansion plans had to include the capital of Poland. With partner Mr Ortwin-Uwe Jentsch we found the perfect fit, with his experience in the banking and financial sectors, along with operating within the city of Warsaw for many years. Adding Warsaw to our business portfolio increased our visibility as a medium-sized company and service our clients more closely.
Opening getsix Polska
With an ever increasing demand to promote and market the getsix® brand and our excellent services and solutions to the world, the 'Marketing, Design and Communications' department was created under the umbrella getsix Polska Sp. z o.o. This allowed the business to create specifically designed marketing materials, create websites, mobile compatibility, display products and our corporate identity.