Countdown: 4 weeks to 6th Annual getsix® 'Golf Trophy' & 10th Anniversary Party 2017!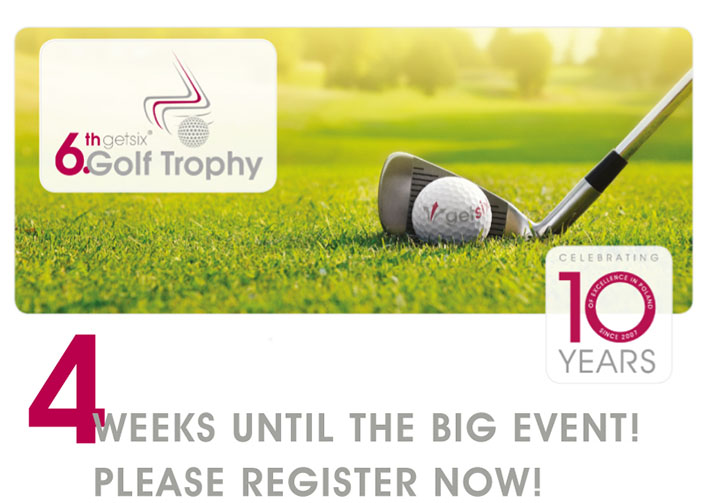 Dear Ladies and Gentlemen,
Partners of the getsix Group would like to invite you to attend our 6th Annual Golf event and party on Saturday 8th July, 2017. Now that you know the date, why not check your diaries, at this year's event we will also be celebrating our 10th Anniversary (2007 to 2017). Yes! getsix® has had the pleasure of servicing our clients for 10 years.
We develop hand-in-hand with our customers and employees
Since 2007, getsix® set out on a journey to achieve a best in class company, supported with a brilliant team of dedicated specialists, within a friendly work environment. With those goals in mind it has allowed us to aim high with regards our customer service and client offering. Client satisfaction has always been our priority.
Major milestones in getsix® evolution
We change under the surface, so our customers receive the service and quality they need and expect. Can we take this opportunity to tell you the story of how we have grown and changed. This is the 7-th of a 10 week countdown to our big celebration of our 10 year anniversary. We are publishing every week 1 year of our 10 year history, to follow this weekly, please visit our website (www.getsix.eu/news/) or on social media (www.facebook.com/getsix/), why not 'like' us for more information from getsix®.
The year 2013…
Business Excellence Framework
In this year, getsix® developed the tool 'Business Excellence Framework' to empower our staff in provided the structure to offer clients our first-class outsourcing services. Our quality management system stays an integral part of this framework, which guarantees a permanent improvement process. Having such professional tools at hand, the optimal course of business is guaranteed.
BPO Project
Both private and public organisations are struggling with unprecedented challenges: economic uncertainty, market complexity, hyper-competition, changing consumer expectations and regulatory pressures. They are looking to next-generation 'Business Process Outsourcing' (BPO) for solutions. That is why in 2013, to stay ahead of the curve getsix® embarked on creating comprehensive BPO services across multiple business functions and processes – finance and accounting, supply chain, along with HR and payroll to name a few.