Poland – the partner country for Hannover Messe 2017

Poland will be the partner country of Hannover Messe 2017. Almost 200 Polish companies will participe in this largest and most important industrial events in the world. The start-ups, eight regions and five special economic zones will be gathered in the heart of the Polish presentation, at the national stand. The Polish Investment and Trade Agency is responsible for the artistic programme of the Hannover Messe 2017 grand opening ceremony as well as for the inauguration of the Polish national stand. Both shows will be attended by Polish Prime Minister Beata Szydło and German Chancellor Angela Merkel as well as by representatives of the Polish government. The programme of the promotion of Poland at Hannover Messe 2017 was presented in the Ministry of Economic Development on 23 March.

Innovative image of Poland at Hannover Messe 2017 will be presented under the slogan SMART MEANS POLAND. Also the symbol of Polish presence at this international trade show is worth noticing. It is a k-dron – symmetrical and at the same time asymmetrical geometric figure, invented by the Polish artist Janusz Kapusta.
Poland will start to promote itself on 23 April, at the grand opening ceremony of the Hannover Messe 2017. The event will be broadcasted by the media from all over the world. It will be attended by prime minister Beata Szydło, chancellor Angela Merkel, representatives of central and regional authorities of Poland and Germany, as well as representatives of German industrial organizations and the largest companies present at the fair. Polish Investment and Trade Agency is responsible for the artistic programme of the ceremony. During the artistic spectacle, the organisers will show that Poland has always been a source of innovations that shaped the world. After the show, official speeches of minister Beata Szydło and chancellor Angela Merkel have been planned.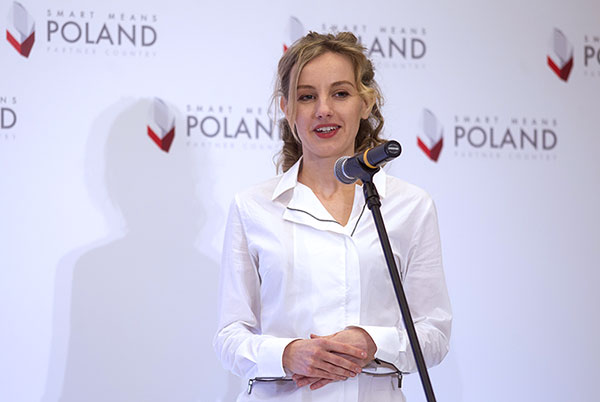 Olga Malinkiewicz, fouder of Saule Technologies and inventor of innovative photovoltaic cells, who will be present at Polish stand at Hannover Messe 2017
The Polish Investment and Trade Agency is also responsible for the opening ceremony of the Polish exhibition at the national stand of Poland at the Hannover Messe 2017. Covering about 1,200 m2, the pavilion, will be officially opened on 24 April by the heads of Polish and German governments, as well as by deputy prime ministers Mateusz Morawiecki and Jarosław Gowin. This will be a symbolic moment for the entire exhibition in Hannover. With the opening of the Polish stand, the Hannover Messe 2017 trade show will be opened for public.
The organisers of the Polish presence at Hannover Messe 2017:
Ministry of Economic Development, Ministry of Science and Higher Education, Polish Development Fund, Polish Agency for Enterprise Development, Polish Investment and Trade Agency, Industrial Development Agency, National Center for Research and Development.
Main Partners: PKN Orlen, PKO Bank Polski.
Strategic Partners: PZU S.A, the Office of Technical Inspection, Bank Gospodarstwa Krajowego, Polish Oil and Gas Mining Company (PGNiG), Kostrzyn-Słubice Special Economic Zone, Famur, Pomeranian Special Economic Zone
(Source: Ministry of Economic Development; Polish Investment and Trade Agency)
To find out more information please visit http://www.paih.gov.pl/en