getsix® Company Profile
Your trusted and reliable partner in Poland
getsix®, as an experienced and strong business partner, offers a broad range of cross-linked economic services for foreign investments in Poland. The service of our client will always stay the focal point of all the actions performed by getsix®. A permanent contact person is assigned to your business. The new line service provided by getsix® gives you, the possibility to concentrate yourself entirely on your core activities and expansion, without having to worry unduly about the day to day operations.
Please click here to download our Company Profile:
getsix® Invest in Poland 2018
Invest in Poland brochure, Societies and taxes (with amendments from 01 January 2018).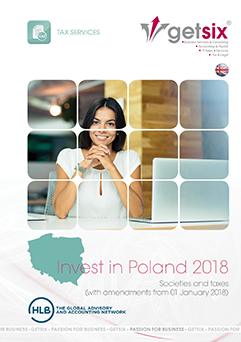 Please click here to download our Invest in Poland 2018:
getsix® Leaflet
getsix® Cube Leaflet give you answer why use getsix® services
Please click here to download getsix® Leaflet: