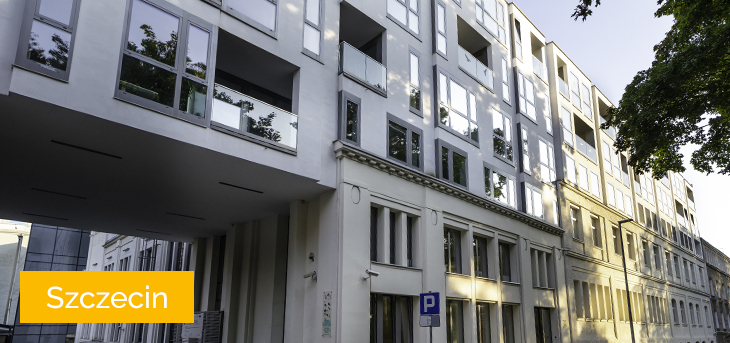 getsix® accounting office in Szczecin provides you with comprehensive services in accounting, payroll, corporate finance and tax matters.
We provide services to Polish and foreign companies. Our accountants speak Polish, English and German.
Our clients have constant online access to their documentation, accounting settlements and individual HR and payroll reports through an intuitive Customer Extranet digital platform.
To guarantee you the highest quality of service - we adhere to ISO 9001 standards, and regular ISO audits give our clients the confidence that their accounting is kept reliably and securely.
---
Contact with getsix® accounting office in Szczecin
ul. Storrady Swietoslawy 1a
71-602 Szczecin
Zachodniopomorskie, Poland
Phone: +48 91 351 86 00
Fax: +48 91 351 86 10
E-mail: szczecin@getsix.pl
KRS: 0000372642
NIP: 8961509921
REGON: 021370887
Location:
Latitude: 53.431728
Longitude: 14.568623
Map of Szczecin: PDF download
---
Scope of services of our accounting office in Szczecin
We offer a wide range of accounting, payroll, tax, business and audit services. If you choose to cooperate with our accounting office in Szczecin, you can decide to outsource single business processes such as accounting or choose comprehensive solutions that will satisfy all your needs in a given area.
We will be happy to prepare an individual accounting offer for you. Please contact us by phone or through the form.
---
Range of our accounting services in our Szczecin office:
Bookkeeping
Keeping full accounting books in accordance with the Accounting Act and international IAS / IFRS standards. Bookkeeping, reporting, current accounting records.
Revenue and expense ledger
Maintenance of revenue and expense records, calculation of tax due, reporting and ongoing control of legal possibilities to use this form of accounting.
Tax card
Calculation of output tax, reporting and ongoing control of legal options to use this form of accounting.
Lump sum on registered income
Maintenance of revenue records, calculation of output tax, reporting and on-going control of legal options to use this form of accounting.
Statements and financial reports
Record keeping of fixed assets, preparation of balance sheets, profit and loss accounts, cash flow statements, statements of changes in equity, etc.
Invoicing
Preparation, labeling, issuing and settlement of invoices, in accordance with applicable law. Supervision of the VAT rate for sales.
Financial reports
Preparation of financial reports required by regulations, as well as personalized reports - according to the client's guidelines - for the needs of current financial analysis. Possibility of reporting in Polish, German and English.
Tax advisory services
Preparation of tax documentation, consultations, tax audits, representation before the Tax Office and Tax Chamber, drafting appeals, complaints and requests for interpretation.
Online accounting (in the cloud)
Quick and direct access to all accounting documentation through a dedicated electronic platform. Direct online contact with your accountant.
Online reporting (in the cloud)
Constant online access to statements, reports and financial summaries concerning current activities and financial flows. Reporting in Polish, German and English.
VAT settlements in the country and abroad
Keeping records of VAT purchases and sales, calculating output tax, reporting, ongoing contact with the Polish Inland Revenue Office, registration of foreign VAT sales.
Document management and archiving in the cloud
Storing and organizing documents in Microsoft Dynamics NAV cloud. Possibility of independent creation of folders and subfolders. Full digital archive of accounting documentation.
---
Photo gallery of Accounting Office in Szczecin
---
HR and payroll for clients of the Szczecin office
HR services
Preparation of employment contracts and civil law contracts, maintaining social security documentation, personal files, vacation cards and working time register. Preparation of PFRON declarations (Polish Fund for the rehabilitation of the disabled). Issuance of certificates of employment. Preparation of documentation for the inspection of the National Labour Inspectorate and the current analysis.
Payroll service
Calculation of wages, preparation of payroll and payroll reports, calculation of tax and social security contributions, implementation of salary transfers, preparation of wage information and annual income information, issuance of certificates of employment and earnings.
HR and payroll documentation in the cloud
Fast and direct access to all HR and payroll documentation via a dedicated electronic platform. Direct online contact with your HR manager.
Profiled HR and payroll services
We provide specialized services in the field of: executive compensation, replacement of HR and payroll employees, consulting in the field of labor law and social insurance, accounting for foreigners delegated to work in Poland and support in the implementation and operation of Employee Capital Plans (PPK).
---
Capital companies
Partnerships
Sole traders
Foundations
Associations
Co-operatives
Budgetary units
SMES
Industry
IT companies
E-commerce
Developers real estate
Real estate agents
Construction companies
---
Accounting Office Szczecin - What distinguishes our services?
Providing accounting services for your company we guarantee:
quick contact with tax specialists who will answer all your questions;
access to your accounting documents from any place in the world via an easy-to-use online platform;
constant compliance of your accounting books with current legislation;
adaptation of our services to the individual needs of your company;
security of the information entrusted to us guaranteed by implementation of the ISO 27001 standard
Read more about » Our information security policy
---
Photo gallery of our
Accounting Office building
---
Our experienced, interdisciplinary team, consisting of accountants, lawyers, tax advisors, HR and IT specialists, constantly extends its knowledge and reacts to any changes in the legal and economic environment.
We will make sure that your settlements are carried out accurately, in accordance with current legislation and always on time.
Learn more about our values » Our Service Model