"Soft landing" of industrial production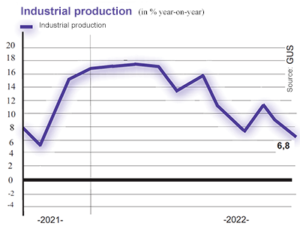 Industrial production increased by 6.8 per cent year-on-year in October. However, it decreased by 0.7 per cent month-on-month, the Central Statistical Office (GUS) announced. Growth was registered in 25 of 34 industry groups. The automotive sector again took the top spot with 41.7 per cent. As in the previous month, the sectors with the largest decline were again the chemical industry with 12.1 per cent, as well as the energy production and utilities sectors. Industrial product prices continued to rise at an annual rate of 22.9 per cent, but there are signs that the level of growth will level off. Compared to the previous month, the increase was just 0.7 per cent.
There are also signs of stabilisation in the evolution of inflation. According to the GUS flash estimate, inflation was 17.4 per cent in November. This is the first decrease since March this year after an unbroken series of monthly increases. In October, inflation in Poland was still 17.9 per cent. Analysts and economists expect a further decline in economic growth for the final quarter of the year, without a hard recession. In 11 out of 16 provinces, companies have announced redundancies. This is not yet reflected in the unemployment statistics. According to a survey commissioned by the employers' association Lewiatan, 65% of companies said they would put plans for further company development and investment on hold in the coming year.
Source: Wirtschafts-Markt Polen (16-2022 Issue 320)
If you have any questions regarding this topic or if you are in need for any additional information – please do not hesitate to contact us:
CUSTOMER RELATIONSHIPS DEPARTMENT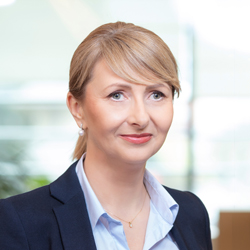 ELŻBIETA NARON
Head of Customer Relationships
Department / Senior Manager
getsix® Group



***
This publication is non-binding information and serves for general information purposes. The information provided does not constitute legal, tax or management advice and does not replace individual advice. Despite careful processing, all information in this publication is provided without any guarantee for the accuracy, up-to-date nature or completeness of the information. The information in this publication is not suitable as the sole basis for action and cannot replace actual advice in individual cases. The liability of the authors or getsix® are excluded. We kindly ask you to contact us directly for a binding consultation if required. The content of this publication iis the intellectual property of getsix® or its partner companies and is protected by copyright. Users of this information may download, print and copy the contents of the publication exclusively for their own purposes.